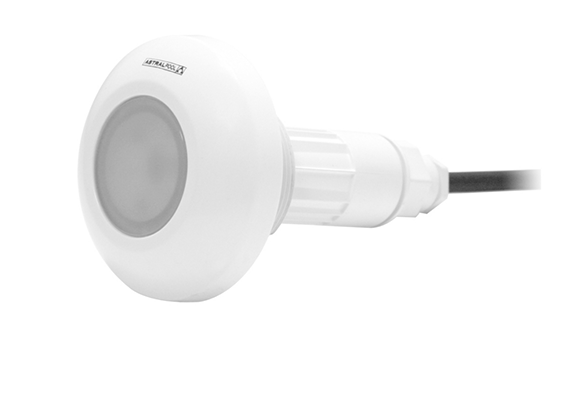 The LumiPLus Mini V3 projectors are easy to assemble, offer a modern design and finish with stainless steel effect using IMD technology (In mold decoration) and allow the replacement of the cable quickly and easily.
Compatible with the Lumiplus Mini 53596 and 59983 niches.
Available in the following light colors: cold white, warm white, RGB and RGB-DMX.
The RGB model is compatible with the LumiPlus Eco, LumiPlus Top, LumiPlus LED APP, LumiPlus Modbus and LumiPlus DMX controllers.
To correctly illuminate a swimming pool, it is recommended to install a LumiPlus Mini family projector every 5 m² of water surface.
Note: Valid recommendations for pools with light colors and for projectors with white light, oversize in RGB colors. In pools of dark colors or stainless steel it is recommended to oversize the proportion of projectors per m2.
Power Consumption White: 4W (6 VA)
Power Consumption RGB: 4W (7 VA)
Power Consumption RGB DMX: 4W (4 VA)
Power supply: 12Vac / 24Vdc in the DMX version via 52142 power supply.
Lifespan: L70 – 50,000h
Show more
Show less