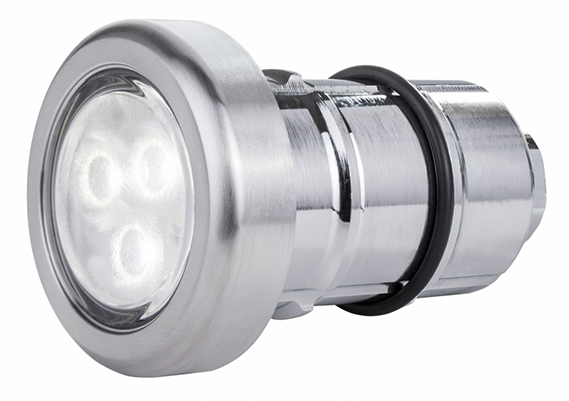 The LumiPlus Micro projectors are the smallest projectors of the LumiPlus range.
There are two models depending on the type of pool in which you want to install: Quick coupler and SPA or prefabricated pool.
Available in the following light colors: cold white, warm white, RGB and RGB-DMX.
The RGB model is compatible with the LumiPlus Eco, LumiPlus Top, LumiPlus WiFi Access Point and LumiPlus Modbus controls (compatible with the Fluidra Connect platform).
The RGB DMX model requires the Lumiplus DMX 52142 feeder controller. Each 52142 feeder can control up to 9 LumiPlus Micro projectors.
To properly illuminate a swimming pool it is recommended: Install a LumiPlus Micro family focus every 5 m2 of water surface.
Note: Valid recommendations for pools with light colors and for projectors with white light, oversize in RGB colors. In pools of dark colors or stainless steel it is recommended to oversize the proportion of projectors per m2.
Power Consumption White: 4W 6(VA)
Power Consumption RGB: 4W (7VA)
Power Consumption RGB DMX: 4W (4VA)
Power: 12Vac
Lifespan: L70 – 50,000h
Show more
Show less