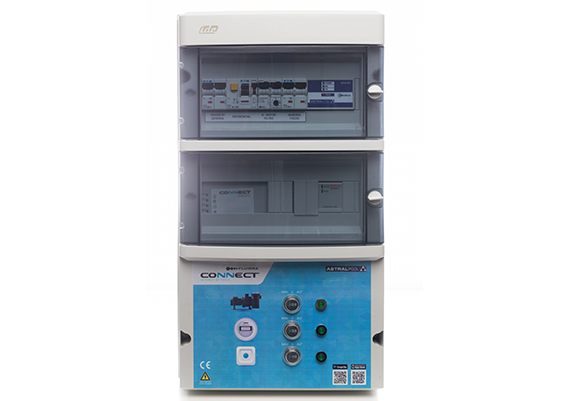 The most flexible solution for a smart connected pool
1 power center cabinet including the Connect Box where all pool equipment is wired (available in different versions to suit most pools)
2 dedicated Pool Pro remote access portals:
NN PRO smartphone APP dedicated to easy configuration and remote monitoring of installed pools
Fluidraconnect.com dedicated Web portal to manage all pools at a glance
1 dedicated NN enduser app to manage pool at anytime from anywhere.
Convenience & easy installation
A range of Connect & Go power center cabinets is offered to suit most residential pools configurations. Connect & Go power center cabinets contain all electrical protections and switches to manage pool equipment. Everything is pre-wired to ease installation process so it is the perfect solution for new pools, while also being adapted to retrofit situation (simply replace the whole cabinet with Connect & Go).
Once installed, simply follow 4 easy steps:
Download the NN PRO app and create your professional user account.
Scan Connect Box QR code to register the Connect & Go power center cabinet.
Scan power center cabinet barcode to get the predefined pool configuration template.
Launch NN compatible products auto detection using the app to get the pool dashboard.
Show more
Show less